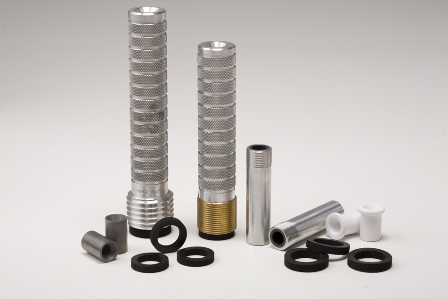 Tungsten Carbide • Silicon Carbide • Boron Carbide • Sylacon • Ceramics • Tugsten and Boron Carbide Inserts
Everblast, is an Illinois Company,producing carbide sandblasting nozzles. Our wide range of carbide nozzles, incorporate wear resistant carbide liners. The surface preparation industry uses blast cleaning nozzles to blast clean and prepare various surfaces before coating. Some examples of carbide liner wear materials are: Tungsten carbide, Silicon carbide, boron carbide, Sylacon and Aluminum oxide

Ceramics .

Carbide
blast cleaning nozzles are used in many surface preparation applications. Carbide nozzles are available with different liner configurations e.g. long, medium and short venturi. Nozzle Jackets are available using a number of materials from brass and aluminum to plastic. Everblast Sandblasting Nozzles are supplied with industry standard threads. Nozzle thread styles available are 1-1/4" NPSM, 2" UNC, 3/4" NPSM. 2" UNC threaded nozzles are widely used outside North America. 2" UNC threads are known by various names including "Contractor threads", "coarse threads" and "metric threads". We offer flanged nozzles as an alternative to threads, these nozzles need special nozzle holders. Long venturi and medium venturi carbide, sand-blasting nozzles are available with either 1" (25mm) or 1-1/4" (32mm) entry. We supply tungsten carbide inserts as well as Boron carbide inserts. Short - straight bore carbide inserts are used in a variety of inductrial cleaning applications. Carbide inserts are used in sandblasting cabinets, in work shops where close up blast cleaning is needed.

Carbide abrasive blast cleaning nozzles also known as sand blasting nozzles are used throughout industry and are an important part of a sand blasting system. Sandblasting (abrasive blast cleaning) is used for cleaning and preparation of steel and other surfaces prior to painting and/or finishing. Abrasive Blast Cleaning is widely used for cleaning and surface preparation from small delicate parts to ships hulls. Airplane surfaces, dental parts, plastic parts, fiberglass structures, gears, surgical instruments, glass etching, monument work...to name a few.
To maximize productivity of abrasive blast cleaning system it is important to select a carbide nozzle that will be cost effective when used with a specific media. It is important to use a sand blasting nozzle with bore to suit compressed air supply and required nozzle exit velocity. Nozzles should not constrict air and abrasive flow by going from a larger hose I.D. to a smaller nozzle entrance size.
Carbide nozzles are tools and should be looked after and protected from damage at work site. All carbide sand blasting nozzles should be inspected daily for condition. Please see our guide to Good Nozzle Practice for more important information on this.
Carbide Sandblasting nozzles and ceramics are available through our network of domestic and international distributors. Everblast Distributors focus on the abrasive blast cleaning industry and carry a range of sandblasting equipment and supplies e.g. compressors, sandblasting hose, couplings, nozzle holders, sandblasting abrasives, blast pots, blast hose, cabinets, replacement parts for sandblasting equipment, sandblast helmets, replacement lenses and other sandblasting related supplies and equipment. If you are looking for a distributor please call us.
Tungsten carbide nozzles are the most commonly used nozzles in the sandblasting / abrasive blast cleaning industry. They are tough and are best suited for use in harsh work site conditions. Tungsten carbide nozzles are economical and work well with most abrasives. If you want light weight carbide nozzles for use with the same media we offer Silicon carbide blast cleaning nozzles. Cost is higher than a comparable tungsten carbide nozzle but Silicon carbide offers a longer wear life than tungsten carbide - when used with comparable media. Everblast Silicon carbide nozzles are specially manufactured to include enhanced liner protection. Our two top of the line nozzles as far as wear life goes, are Sylacon and Boron carbide lined nozzles, these are more expensive than Silicon carbide but offer a much longer wear life. Either of these two nozzle style and can be used when blast cleaning with Aluminum oxide or similar aggressive media. * Silicon carbide and Boron carbide have a much longer wear life than tungsten carbide nozzles but the trade off is that both these materials are more brittle than tungsten carbide.
Guide on Estimated Nozzle Service Life in hours.
All figures are indicative and given for nozzle comparison purposes only. Actual nozzle service life will depend on operational variables, such as blast pressure, media dimensions and media particle profile. All figures are approximate.
| | | | |
| --- | --- | --- | --- |
| Nozzle Liner Material | Steel/Grit Shot (hours) | Expendable Abrasives (Hours) | Aluminum Oxide (Hours) |
| Ceramic | 20-40 | 10-30 | 1-4 |
| Tungsten Carbide | 500-800 | 300-400 | 20-40 |
| Silicon Carbide/Silicon Nitride | 600-1000 | 400-600 | 50-100 |
| Silicon Composite | 1400-2300 | 700-1450 | 180-900 |
| Boron Carbide | 1500-2500 | 750-1500 | 200 - 1000 |